Hardware Infrastructure Global Viewpoint – August 2018
Rugged Storage Drives for Video
The Gnarbox storage platform comes with extensive editing and post-production features.
As video cameras get smaller and action video grows bolder, portable storage is getting tougher. We are beyond the days of basic ruggedized hard drives. Now there are advanced storage devices on the market that makes video field production easier to produce under adverse conditions.
B&H Photo said in a new white paper that the rugged drive market is booming, with new releases and functionality being quickly introduced. These new drives are designed to take a beating and are perfect travel companions for adventurous videographers.
They recommend four of the newer drives, each with a unique feature set:
G-Technology G-DRIVE ev RaW
The G-Technology G-DRIVE ev RaW protects against falls from 4.9-feet onto a carpeted concrete floor. It is bus powered, which allows owners to leave the AC adapter at home. It uses a USB 3.0 interface for transfer speeds up to 136 MB/s. Certain models are compatible with G-Tech's ev System, so they can be quickly connected to the G-DOCK ev or even G-SPEED arrays with ev Bay Adapters.
These drives are available in one to 4TB sizes as a standard HDD, or in 500GB, 1TB and 2TB configurations as an SSD, which boasts speeds of up to 425 MB/s. Prices begin at under $100 and rise accordingly with capacity.
LaCie Rugged RAID Pro Drive
LaCie Rugged RAID Pro drives, designed by Neil Poulton, have — with their distinctive orange bumpers — become among the most recognizable of the rugged drives. B&H highlights the 4TB Rugged RAID Pro model, which uses two hard drives to create a RAID 0 or 1 configuration for extra speed or protection, respectively.
The RAID takes things a step further with a USB 3.0 Type-C interface, 250 MB/s, and a built-in UHS-II SD card reader. This is especially useful for MacBook Pro owners with only Thunderbolt 3/USB-C ports. The drive is also IP54 rated, can withstand four-foot drops and can even be run over by a one-ton automobile.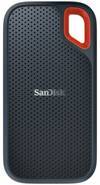 SanDisk Extreme Portable External SSD
The SanDisk Extreme Portable External SSD, with its pocket-sized design, is a seriously fast SSD drive rated for read speeds up to 550 MB/s. It uses a USB 3.1 Gen 2 Type-C interface and is IP55 rated, meaning it will operate in a water flow of up to 30 kPA for three minutes, and withstand up to 1.5 kg of shock.
The drive's small size contributes to this durability, and it will operate even after being dropped from from 6.5-feet onto concrete. Available in 250GB, 500GB, 1TB and 2TB varieties.
Gnarbox
At first glance, the Gnarbox seems to be a typical ruggedized drive, but hidden in its compact body is a complete portable backup and editing system for the field. Built-in processing, memory and a mobile app allow users to offload data quickly from memory cards or other drives and then quickly review and edit the footage. It is water resistant, shockproof and dust-proof.
The Gnarbox is made for use in out of the way wilderness areas with GoPros and other types of highly mobile cameras. However, it works just as well with full-size pro camera systems. It has integrated microSD and SD card slots, as well as two USB ports. Battery life is up to six hours. There is a complete video editing suite so users can put together a highlight reel on location.
The Gnarbox is available in 128GB and 256GB versions. Gnarbox 2.0 SSD has completed a Kickstarter campaign, and is now available.
Related Editorial Content
More than half of computer users pick the largest size external drive they can afford and then shop around for the best price. Outside of the type of interface, not much else is considered. That may be fine for general…
Audio can be edited these days on virtually any personal computer. Professionals, however, need to understand storage drives in order to get the best results. Here's what to look for when buying drives for audio editing.
The first commercially available helium-filled hard drives were introduced by HGST, a Western Digital subsidiary, in November, 2013. At the time, the six terabyte device was the highest capacity hard drive available. Backblaze, a major hard drive user, wanted to find…