Distribution & Delivery Global Viewpoint – June 2016
Broadcaster's New Challenger: Streaming Video
Tomorrow's audiences (today's young people) expect their content any time and any place. Broadcasters are not yet there.
Looking at the rapid changes taking place in broadcast reminds me of Rip Van Winkle. In the story the guy sleeps for 20 several years, only to awake to a world he doesn't recognize and one that doesn't recognize him. Likewise, if broadcasters don't successfully embrace ATSC 3.0, they could find themselves in a world in which they don't fit, where viewers no longer need them.
The recent Ericsson Mobility Report shows that TV/video viewing habits and supportive technology are rapidly changing, perhaps faster than many might have predicted. That's especially the case for the younger generation of viewers.
The report shows that along with the explosion in the amount of video content available on the internet, there is a corresponding sharp increase in streamed video viewing. That is especially the case among young people.
When I was young, OTA television was new and exciting. I witnessed the number of on-air channels in my house rise by 300%—from one channel to three channels and from black and white to color. Oh, and we had no internet or streaming video.
Today's teens never consider the technology by which their entertainment arrives--they just want it now. To them, streaming is just another way to get what they want. They have no experience of a world without online video streaming. And, this younger audience, unlike their parents, are not big fans of living room television viewing. Broadcasters need to understand these facts and develop plans to address the challenges of meeting the needs of this new, and demanding, audience.
How viewers get content has changed
Smartphones are key to reaching the younger viewers. Seldom without their smartphones, teens depend on their devices to watch video as well as maintain social contact with friends.These viewers are not bound to the large-screen TV set in the living room like their parents. These viewers expect to be able to consume their content on their portable devices anywhere.
Today's teens are highly dependent upon their smartphones and consume an increasingly amount of video on them. Broadcasters must somehow enter that space. Image: Ericsson
While most streaming is over Wi-Fi, high growth rates can be seen for teen data usage over cellular networks, as they stream video throughout the day – indicating a major shift in behavior. Appointment viewing is dying. "I want it now—where I am!" is the mantra.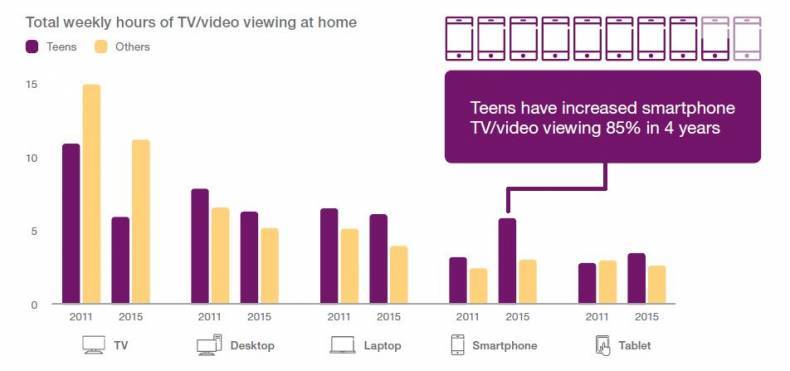 Figure 1. Teen viewers have increased smartphone TV and video viewing by 85 percent in only 4 years. That represents an untapped audience for broadcasters.
When looking at total time spent watching TV and video content at home, teens spend roughly as much time watching as others. In fact, when compared with internet users between 20-59 years old with smartphones, teens aged 16-19 reported similar overall viewing times at home
to others both in 2011 and 2015.
However, screen preference is gradually changing from the traditional TV set to smartphones. This is a change that can be observed across age groups, although it is most clearly seen in teenage audiences.
Between 2011 and 2015, teens increased their TV/video viewing at home on smartphones by 85 percent and nearly halved their time spent watching on a traditional TV screen. Older generations are slower to change. For example, 30–35 year-olds spent 4 hours more than teens in front of the traditional TV in 2011, maintaining that level in 2015. But the reality is that these older viewers are disappearing, if nothing else by dying.
Video streaming is spread across time and place
When TV/video viewing migrates from fixed to mobile screens, viewing situations expand throughout the day. Teenagers have higher viewership and more video sessions for all parts of the day.
Teens have increased smartphone TV/video viewing 85 percent in 4 years.
While much of mobile device viewing time is spent indoors, it should therefore come as no surprise that over 85 percent of data traffic generated by the use of smartphone video is delivered by Wi-Fi. However, given that video viewing is taking place across the whole day, there are situations where Wi-Fi is unavailable or insufficient, leading to an increase in video viewing over cellular networks.
Although cellular data usage on smartphones is growing, Wi-Fi data growth is dramatically outpacing it. As shown in Figure 2, there was an 80 percent growth in cellular data usage between July 2014 and October 2015 for smartphone video streaming. However, the corresponding Wi-Fi data growth is more than double this, 164 percent.
Figure 2. While cellular data usage increased by 80 percent, smartphone users drove Wi-Fi data usage up by 164 percent.
Cellular data growth increasingly driven by teens
While teens use more Wi-Fi than cell connections, they are also more willing to pay for connectivity. Fully 63 percent of teenagers surveyed in the US, Japan and South Korea say they would pay for improved mobile data speed and coverage. This is higher percentage than other age groups.
Only 30–35 year-olds have a higher growth rate than teens for cellular video streaming data usage. However, the overall mobile video data consumption (including both cellular and Wi-Fi) among this group is around 2.5 GB/month. That represents only a fifth of the teens' data consumption and the potential for further growth is limited because the older viewers are still rooted in traditional TV viewing behavior and unlikely to change.
Overall, teens are the heaviest users of data for smartphone video streaming apps and have the second highest rate of cellular video data consumption growth. Because of this generational change, current teens are likely to increase their appetite for cellular data as they grow older – making them the most important group to watch for cellular operators.
Figure 3. Teen usage of cellular data to watch video has grown 127 percent in only 15 months.
What does this mean to broadcasters?
Stations need to go where the viewers are—streaming. For now, that means having a highly visible presence on the web. Tomorrow that means adopting an IP delivery technology. And while ATSC 3.0 remains a bit of an unclear IP picture, it is the only path forward. One might even say, adopt it early or get out of the way.
In my early days as a broadcaster, I was comfortable with the more leisurely pace of technology change and adoption. Today's engineers and managers no longer have that option. I wouldn't say adopt or die. However, adopt or find another job might be appropriate.
The technology decisions that will need to be made will be difficult. Fortunately, The Broadcast Bridge can be your partner to better understand the new opportunities, options and technologies.
Related Editorial Content
In the months ahead, OTA television station owners face some momentous decisions. Fast-changing technology will force them to either sell their spectrum in upcoming FCC auctions or rebuild their technological and business infrastructures to operate in a highly competitive Internet-centric…
The current digital terrestrial broadcast system, now referred to as ATSC 1.0, has been around for more than 20 years. Although it has seen widespread use and success, technologies and viewer expectations have changed dramatically since the standard was created.
A big chunk of the ATSC 3.0 standard — the "physical layer" — has finally graduated to candidate standard status. It's a major achievement, but there are still many other components of the complex project ahead. As many as twenty components of the compl…