Audio Global Viewpoint – November 2018
Essential Tools for the Sound Engineer's Kit
Most sound engineers focus on the key parts of their sound equipment. Things like the latest mixing boards, unique microphones, favored headphones and other high profile gear dominate their thinking. However, some less expensive items can also be essential when encountering audio problems in the field. Here are a few that should be considered.
A major pro audio dealer in New York City, B&H Photo, cites some essential gear that every sound technician needs in his kit. One is a cable tester. When signal-flow problems occur, a suspicious eye is always cast on cables. Wiring issues can cause a signal to be distorted, low in level, inverted in polarity or to completely disappear.
Rather than swapping out a bunch of cables to see if the problems vanish, the sound tech's time would be more efficiently used testing cables to see if they need to be replaced. Test cables before using them or installing them in areas that will be difficult to access.
The dbx CT-3 cable tester is compact and easy to use.
The dbx CT-3 cable tester allows operators to test 11 different cable types — XLR 3-pin, MIDI 5-pin, RCA, BNC, DMX 5-pin, Banana, RJ11, RJ45, 4-pole speakON, 3.5mm and 1/4" TRS/TS. It is battery powered and has a tone generator with adjustable level.
Another recommended device is a polarity checker. In addition to issues with cables, there can be signal presence and polarity problems with microphones, speakers and wireless systems. The Galaxy Audio CPTS Cricket is a battery-powered polarity and continuity checker with separate send and receive modules, allowing it to be used at each end of long-distance signal lines.
Galaxy Cricket comes with a microphone, speaker and pulse generator.
The Cricket features an internal mic for speaker testing, an internal speaker for mic testing and an audio pulse generator. It can drive snakes and speaker cabinets and has simple green and red LEDs to indicate positive or negative polarity.
Beyond checking basic signal continuity and device polarity, audio techs may need to test for frequency response characteristics, SPL values, phase correlation, reverb time and more if you are analyzing a room or piece of equipment for issues or deficiencies. When it comes to such complicated matters, B&H recommends a portable audio analyzer.
Phonic PAA3X audio analyzer.
The Phonic PAA3X is a handheld model with a built-in detachable condenser measurement microphone and backlit color LCD screen. Its essential functions include 31-/61-band spectral analysis (RTA) with 31-/61-band EQ setting display, RT60 (reverb time) measurement and SPL metering up to 130 dB.
It also provides line signal checking in dBu, dBV or volts via a balanced XLR, a phase check, a signal generator capable of producing pink noise, sine/sweep waves, polarity test signal types and instant snapshots to the supplied SD card. It can be powered via a rechargeable Li-ion battery or an AC adapter.
The Phonic PAA6 expands the capabilities of the PAA3 by adding more functions, two-channel operation, a color LCD touchscreen with touch pen, two balanced XLR inputs and two built-in condenser measurement mics, which can be placed in six different positions. Additional functions include 61-band RTA, FFT, THD+N, LEQ, oscilloscope and a versatile signal generator with more signal types.
It can be powered via the supplied AC adapter or the internal Li-ion battery and supports stand mounting. Bonuses include an audio text signal CD and data import/export via USB or SD card.
If you work with audio, you're constantly listening through speakers and/or headphones. Listening through speakers involves two accuracy-compromising factors — speaker frequency response and room characteristics. Listening through headphones introduces frequency response variables and problems in proper translation to speakers. There are software programs and plug-ins designed to compensate for these issues and improve the accuracy of your monitoring in a major way.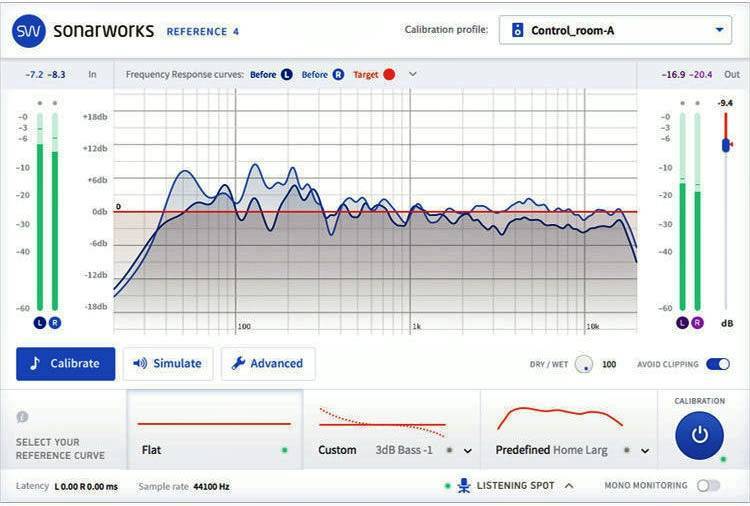 Sonarworks software
Sonarworks Reference 4 Studio Edition includes software for calibrating speakers and headphones and can be used in or out of a DAW. It features guided step-by-step processes designed for ease of use. The speaker calibration software requires a measurement microphone (omnidirectional condenser included) to analyze the frequency response of your monitors in your room, then creates a new response curve that results in a flat, accurate sound based upon your personal setup.
It also offers mono monitoring and selectable presets to mimic other speakers. The headphone calibration software automatically adjusts the output frequency response based upon the selected model of headphones. Its simulation mode allows simulation of speakers or different headphones through your own.
WAVES NX is a plug-in room simulator.
Waves Nx is a plug-in offering simulation of physical room acoustics through headphones. It's all about room simulation rather than frequency calibration. With adjustable room ambience, speaker positioning, head modeling and head tracking, it can make mixing on headphones seem like mixing on monitors in a room. Surround monitoring in 5.0 or 5.1 is also provided.
If your recording or mixing situations involve multi-miked instruments or configurations with direct boxes and microphones, you are dealing with important phase relationships. Negative phase interactions often lead to frequency cancellations that create undesirable "hollow" sound quality. Because phase is frequency dependent, tweaking it is best done in a frequency-adjustable way.
Radial Phazer
The Radial Engineering Phazer is a single-channel analog phase adjustment tool. It works with unbalanced instrument and balanced line signals. It provides polarity inversion, up to 180-degrees of phase shift and a selectable low-pass filter with two range positions and variable cut-off frequency.
Though the "wow" factor of these tools may be low, each can be very useful to working sound operators. All are considered must-have tools that professional sound operators routinely rely on.
Related Editorial Content
Due to the much publicized loudness wars, we now have a standard to measure loudness: the EBU R128 specification. This is a look at how this standard applies to sound engineers doing live audio or recording for various broadcast media.
Most novice videographers can plug a microphone into a mic jack and get a reasonably good audio signal. However, at times, many get noise, distortion or an unusably low audio level. That is usually caused by mismatch in audio connection…
If you're like me, looking through layers of buried menus on digital devices for the one thing you need to do is enough to drive you batty. Yet, virtually every digital device in our lives today — from smartphones to cam…